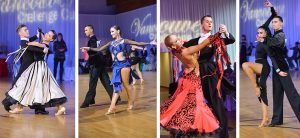 Competitor registration is now officially open for VCC 2017! Registration can now be done online through O2CM or through the mail by filling out our forms. Click here to be redirected to our registration page. 
Payment Processing
**New For VCC 2017**
Competitor passes and spectator tickets can be purchased directly though O2CM during your registration process. However, entry fees will be processed separately. After registration on O2CM, you will receive an invoice via email with instructions on how to complete your remaining fee payments online. Emails are not instant, so please allow one to two days.
Competitor Passes and Registration Fees
All competitors are required to purchase a competitor pass in addition to their registration fees.  A regular competitor pass allows admission to the ballroom for the entire weekend but does not guarantee you a seat.  For the best possible experience, we recommend purchasing the front row or reserved seat options. Visit our Fees and Passes Page for more information. 
Important dates to remember:
November 20th
Register and purchase your tickets before this date to receive your Early Bird discounts.
December 20th
Competitor Registration Deadline! All registration done after this date will be subject to a $15 late fee.  Please note that all payments must be complete by December 26th regardless of when you registered, or else the $15 late fee will also be applied.